Alligator Records has set an April 26 release date for new CDs from Sacramento's blues/jazz/jump masters Little Charlie & The Nightcats and critically acclaimed, Austin-based pianist/vocalist/songwriter Marcia Ball. NINE LIVES, Little Charlie & The Nightcats' ninth release, is a foot-stomping mix of Chicago blues, West Coast swing, jumping jazz and R&B, anchored by harpist/singer Rick Estrin's original songs and vocals and Little Charlie Baty's out-of-this-world fretwork. LIVE! DOWN THE ROAD is Ball's first-ever full-length live album. Backed by her road-tested touring band, the CD features a fan's dream set list of songs from throughout Marcia's long career. -- Catch Marcia at the Sheldon Theater on April 1st! --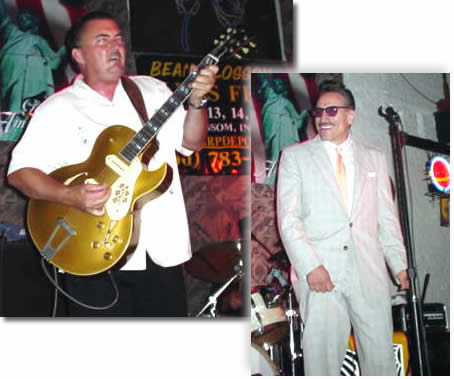 LITTLE CHARLIE
& THE NIGHTCATS
With each new Little Charlie & The Nightcats release, it becomes increasingly clear that these cats are musicians of unparalled skill. Baty and Estrin are both world-class musicians with equal amounts of creativity and originality. Together, they've created some of the most memorable and long-lasting blues and roots music in the last 30 years. The San Francisco Chronicle says, "Great jump blues, known for sizzling guitar, a harmonica sound that sings and original blues tunes that entertain audiences like no other in the genre."
Baty's wild, seemingly impossible guitar excursions run the gamut from jazz to blues to rock to surf. He seamlessly blends various elements into a guitar sound that is his alone. Guitar World declares, "Baty's straight blues playing is eye-popping...he stretches solos to the breaking point, skittering on the edge, where one wrong note will bring the whole thing crashing down." "Little Charlie Baty plays as much guitar as Eric Clapton and Buddy Guy put together," raves The Village Voice. "He is one of the swiftest, most fluent guitarists working in any genre."
Estrin's harmonica acrobatics, singing style and songwriting skills are every bit Baty's equal. As a harp player, Estrin has few peers. His work on the reeds is at once deep in the tradition of harmonica masters Sonny Boy Williamson, Big Walter Horton and Little Walter Jacobs while at the same time pushing that tradition forward. "Rick Estrin sings and writes songs like the brightest wise guy in all bluesland and blows harmonica as if he learned at the knee of Little Walter," raves Down Beat. His original songs stand shoulder to shoulder with those of Willie Dixon and the songwriting team of Leiber and Stoller. Estrin won the 1993 W.C. Handy Award for his composition, My Next Ex-Wife and has written songs for a growing legion of famous fans. Other artists who have covered Estrin songs include Little Milton, Rusty Zinn, Kid Ramos and Mark Hummel. Besides Dixon and Leiber and Stoller, Estrin cites Sonny Boy Williamson II, Percy Mayfield and Baby Boy Warren as his major songwriting influences. Rounding out the Nightcats are drummer J. Hansen (who's been with the band since 2002) and bassist Lorenzo Farrell (who joined in 2003), both veterans of the Bay Area's Steve Lucky & The Rhumba Bums. Hansen and Farrell combine to produce one of the most exciting rhythm sections in the Nightcats' history.
The story of Little Charlie & The Nightcats began back in the early 1970s when Baty – a harmonica-playing UC Berkeley student, first met Estrin. With Rick already an accomplished harp player, Baty decided to switch to guitar full-time and the two formed a blues band. After relocating to Sacramento, Baty quickly reinvented himself as a take-no-prisoners, one-of-a-kind guitarist. With the addition of a drummer and a bass player, Little Charlie & The Nightcats were born.
In 1986 the band sent an unsolicited tape to Alligator Records. Alligator president Bruce Iglauer was blown away. He flew to Sacramento to see the band perform and was sold. Their debut album, ALL THE WAY CRAZY, was released in 1987 to overwhelming success. Almost immediately they went from playing small Sacramento blues clubs to performing concerts and festivals around the country and around the world.
The band's following albums, 1988's DISTURBING THE PEACE, 1989's THE BIG BREAK!, 1991's CAPTURED LIVE, 1992's NIGHT VISION, 1995's STRAIGHT UP!, and 1998's SHADOW OF THE BLUES solidified their reputation as one of the most adventurous and sophisticated blues bands around. 2002's THAT'S BIG! continued their success, with reviews and features running in The Chicago Tribune, The New York Post, The Washington Post, The Houston Chronicle, GuitarOne, Guitar Player and many other national and regional publications. The band also was featured in a 20-minute interview and performance segment on National Public Radio's Weekend Edition.
With their new CD NINE LIVES and continued non-stop touring, the band, like their music, remains in constant motion, attracting new fans across the country and around the world. "The blues needs converts," noted The Village Voice, "and Little Charlie & The Nightcats make a few new believers every night." The Chicago Sun-Times declares, "It's tough for fans to stay in their seats when Estrin and Baty and their musical cohorts get cooking." Indeed, these cats jump, prowl and always come to play.
MARCIA BALL

Previously, the only way for Marcia Ball's fans to hear one of her stellar live performances was to see her in person. But now that all changes, as Ball rewards her fans with her first-ever full-length live album, LIVE! DOWN THE ROAD, a blistering set recorded at the Sierra Nevada Brewing Company in Chico, CA in 2004. Ball gives each song the workout of a lifetime, reinventing and reinvigorating every track with the immediacy and fire only a live show can deliver.
After recording nine previous albums, Ball joined the Alligator Records family in 2001 (and also hooked up with the influential Rosebud booking agency that same year) and released the critically acclaimed PRESUMED INNOCENT, which took home the 2002 W.C. Handy Blues Award for "Blues Album of the Year." Her follow-up, SO MANY RIVERS, was nominated for a Grammy® Award, and won the 2004 W.C. Handy Blues Award for "Contemporary Blues Album of the Year" as well as the coveted "Contemporary Blues Female Artist of the Year" award.
Born in Orange, Texas, in 1949 to a family whose female members all played piano, Ball grew up in the small town of Vinton, Louisiana, right across the border from Texas. She began taking piano lessons at age five, playing old Tin Pan Alley tunes from her grandmother's collection. From her aunt, Marcia heard more modern and popular music. But it wasn't until she was 13 that Marcia discovered the blues, as she sat amazed while Irma Thomas delivered the most soulful and spirited performance the young teenager had ever seen. In 1966, she attended Louisiana State University, where she played some of her very first gigs with a blues-based rock band called Gum.
In 1970 Ball set out for San Francisco. Her car broke down in Austin, Texas, and while waiting for repairs, she fell in love with the city and decided to stay. It wasn't long before Ball was performing in the city's clubs with a progressive country band called Freda and the Firedogs, while beginning to hone her songwriting skills. It was around this time that Ball delved deeply into the music of the great New Orleans piano players, especially Professor Longhair. "Once I found out about Professor Longhair," recalls Ball, "I knew I had found my direction."
When the band broke up in 1974, Ball launched her solo career, signing to Capitol Records and debuting with the country album Circuit Queen in 1978. She released six critically acclaimed albums on the Rounder label during the 1980s and 1990s. In 1990, Ball - collaborating with Angela Strehli and Lou Ann Barton - recorded the hugely successful Dreams Come True on the Antone's label. At the end of 1997, Marcia finished work on a similar "three divas of the blues" project for Rounder, this time in the distinguished company of Tracy Nelson and Ball's longtime inspiration, Irma Thomas. The album, Sing It!, was released in January, 1998 and was nominated for both a Grammy® and a W.C. Handy Blues Award as "Best Contemporary Blues Album." Ball also received the 1998 W.C. Handy Blues Award for "Contemporary Female Vocalist of the Year" and for "Best Blues Instrumentalist-Keyboards." In 1999, Marcia and her band appeared in the nationally televised Public Television special In Performance At The White House along with B.B. King and Della Reese. Her albums and performances received glowing reviews in major music publications, and Marcia was featured on leading television and radio programs, including Austin City Limits and National Public Radio's Fresh Air and Piano Jazz.
Since the release of her Alligator debut PRESUMED INNOCENT, Ball has received more popular and critical acclaim than ever before. Billboard called the CD "A stellar collection…Ball is a formidable musical force, and this is her best vocal performance to date featuring polished performances and true grit, capturing the totality of Marcia like no previous album." The album was in the Top 20 chart positions at Album Network, Gavin and FMQB and won the W.C. Handy Blues Award for "Best Blues Album of the Year." SO MANY RIVERS, her 2003 follow-up, continued the trend. Billboard again fueled the excitement, saying, "Ball is a consummate pro – a killer pianist, a great singer and songwriter. Powerful. Righteous. SO MANY RIVERS is the best album Ball has ever tracked."
Now, with LIVE! DOWN THE ROAD and a long list of high profile tour dates, Marcia Ball is poised for even more acclaim. Blues Revue declares, "Marcia Ball has an uncanny ability to synthesize all the sounds of the Texas-Louisiana border and deliver them with an honesty that makes it all seem natural and logical. She has this amazing power to light up a room." With LIVE! DOWN THE ROAD, Ball's singing, songwriting and piano playing, along with her foot-stomping, road-tested band, will move souls and feet together, creating a romping, stomping roadhouse full of heartfelt passion and fervent music for anyone within earshot.

-- back to top --