B.B. King Readies Live Album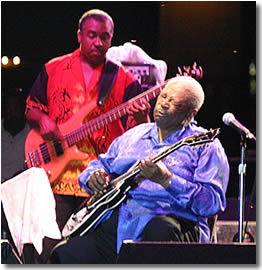 B.B. King is about to come live to you from B.B. King's. The legendary Blues guitarist has recorded a live album and filmed a DVD from his own B.B. King's Blues Club in Nashville.

The live DVD features 18 songs, the CD features 12 including his signature tune "The Thrill Is Gone." He also plays "When Love Comes To Town," the song he originally recorded with U2 and which introduced him to a whole new audience.

Live! also features two never before recorded songs from King, "You Are My Sunshine" and "When The Saints Go Marching In." B.B. King's Live! will be released on February 19.