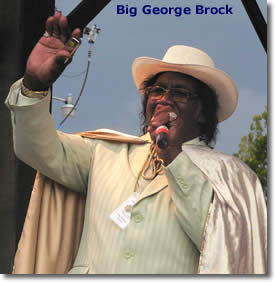 74-year-old, Mississippi-born bluesman Big George Brock will play his annual "Appreciation Day" concert on Saturday, November 4th at BB's Jazz, Blues & Soups in St. Louis. It will be a night of old-school, real-deal blues music and, for Brock, a bit of celebration.
Since last year's "Appreciation Day," a lot has happened in the career of the veteran bluesman.
"He played on actor Steven Seagal's all-star blues album. He was nominated for a Blues Music [a.k.a. W.C. Handy] Award, and he went over like gangbusters over in Europe," said Roger Stolle, Brock's manager and owner of the Cat Head Presents record label. "He also released his life story on a DVD called Hard Times that's gotten excellent reviews. Then, back in August, he put out a wonderful new album that features Howlin' Wolf's guitar player, Hubert Sumlin, as a special guest. You could say he's been a little busy."
"Yes, sir. It's been a big year for me and my fans. We've been having a real good time," said Brock from his St. Louis home. Asked about the year's high points, Brock pointed to the various blues festivals he's been playing. "We had a nice, nice show up at the Chicago festival this year and made plenty of new friends over in Italy and Switzerland when we played there. They really made me feel real welcome."
He is also proud of his new CD that features legendary guitarist Hubert Sumlin and, following on the heels of last year's comeback album Club Caravan, is appropriately titled Round Two. "It was so good to play with Hubert again. I hadn't seen him in a long, long time, and he was just the same as always. Real easy to get along with," said Brock. "We also played some shows together in Clarksdale and for the Howlin' Wolf [Festival] people down there in Mississippi."
"The new CD is really doing well for Big George. It's getting lots of airplay both here and overseas," said Stolle. "I know George wants to personally thank KDHX for all of the airplay, locally. It really means a lot to him. I also want to thank Bill Wax at XM Satellite Radio who has the new record as a "Pick to Click" right now."
Due to Brock's touring and recording schedule over the past year, he has only been able to fit in a few St. Louis dates, so the November show will be his first locally since the Big Muddy Blues Festival in September. Touted as an "Appreciation Day," it will also make a fitting tribute to St. Louis blues -- both past and present.
"15-year-old Marquise Knox is opening up the show, so blues lovers should get there early. I guess you could say that he's the future of the blues and Big George is the history," said Stolle. "It's good to know that even with the rough year St. Louis blues has had with the recent passings of icons like Bennie Smith and Henry Townsend, there still are still guys out there keeping the music alive."
Marquis Knox opens the show at 7pm. Big George Brock with special guest Clarine Wagner plays at 9pm. $10 at the door. BB's is a full service bar and restaurant located at 700 South Broadway, downtown. More information at 314-436-5222.