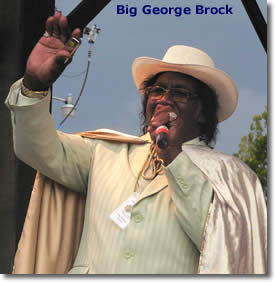 75-YEAR-OLD BLUES VETERAN BIG GEORGE BROCK RELEASES FIRST LIVE ALBUM

SEPTEMBER 21, 2007 (CLARKSDALE, MS) -- After a summer of festival dates and overseas touring, 75-year-old bluesman Big George Brock has released his first live album ever. Entitled "Live At Seventy Five," it marks Brock's fourth release on the Cat Head Presents label.

"Yeah, I guess you could call it seventy five years in the making," said Brock from his current home in St. Louis. "I put everything I have into this recording. Everything I've been through. Man, you just don't know. I was ready to make this record."

Recorded live at Clarksdale's world-famous Ground Zero Blues Club on May 12th of this year, the CD features a mix of Brock originals and classic blues covers from many of the legendary bluesmen he played with back in the day -- including songs by Muddy Waters and Howlin' Wolf. It also features a special introduction from an old Delta friend.

"Mr. Sonny Payne is always just so nice," said Brock. "I used to listen to him and Sonny Boy [Williamson II] on King Biscuit Time when I was young. I was just so happy that Sonny introduced me on my new record. It really meant a lot to me."

It seems that Payne is also a big fan of Brock. He was quoted in Blues Revue magazine earlier this year saying, "You don't hear blues today. You think you do, but you don't. I'm talking about the younger generation. You're hearing crossover. To me, blues is… I don't know. Big George Brock. That's about as close – not close – it is the blues."

Joining Brock on the new "Live At Seventy Five" CD are guitarists Riley Coatie, Sr. and Bill Abel. Each has backed Brock on past CD and DVD releases, and each has accompanied Brock on various overseas festival dates. They are joined by Riley Coatie, Jr. on drums and Barry Bays on bass.

"We played in France twice this year," said Brock. "They loved us over there. And back in June, we were over in England for two weeks. It was all just wonderful, but I was happy to get back to the Delta to make this record. I've got this new song on there about bringing the blues back home. It's Clarksdale that I'm talking about in that song. Muddy and them took the blues north. I brought them back down south."

Brock grew up at a cotton plantation just outside Clarksdale, Mississippi. Through the years, he's been lucky enough to share stage or studio with the likes of Muddy Waters, Howlin' Wolf, Jimmy Reed, Albert King, Hubert Sumlin, Steven Seagal, Watermelon Slim and others.

"I've played with a lot of fine musicians through the years," said Brock. "Muddy was about my favorite because he was so nice to me, encouraging to me. I've met some good, young players lately, though, that let's me know the blues ain't going nowhere. And as long as I'm on this earth, I plan to make sure of that."

Brock's "Live At Seventy Five" is available now at record stores via Burnside Distribution Corporation. It can also be previewed and purchased on the web at www.CDbaby.com, iTunes and www.Amazon.com. Brock's biography, tour dates and more are available at www.cathead.biz.