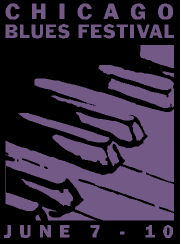 Gearing up for Edition 24
Got the Chicago winter blues? Have no fear, Chicago Blues Festival event planners are gearing up for this year's event with lots of great talent confirmed to entertain blues palates of all kinds. Edition 24 of the Chicago Blues Festival takes place June 7-10, 2007. The world's largest free admission blues festival brings people together from all parts of the world to enjoy the very best blues music in Chicago's Grant Park with six stages of entertainment.
Once again, the Chicago Blues Festival celebrates centennials, saluting Sunnyland Slim and Albert Ammons (protégé of Jimmy Yancey, the father of Chicago blues) with Boogie Woogie Stomp: a special piano summit in honor of Albert Ammons.
The Chicago Blues Festival brings several special treats to Grant Park this year, with sax man Big Jay McNeely playing at the festival for the first time. McNeely is a true wild man of Jump Blues / Rock n' Roll, a style of performing that includes rolling around on the floor, jumping up and down on stage, and acting like he's being electrocuted. McNeely's big hit "There is Something on Your Mind" reached # 4 on the R & B Billboard charts in 1959.
Don't miss the 30th anniversary celebration of Billy Branch and the Sons of Blues performance at the Berlin Jazz Festival. Be a part of the discussion and learn its impact on Chicago blues. Born in Chicago, Branch is always a treat with his vast experience performing with blues greats, including Willie Dixon, Son Seals, Koko Taylor and many more. Branch is also very dedicated to working with the Blues in the Schools program, helping educate and influence children for more than twenty years.
This year's festival is jam-packed with reunions, celebrations, discussions, great music and back by popular demand, the "front of the line cards" inviting people to jam with blues greats at the Mississippi Juke Joint each day of the festival. More information on the festival will be forthcoming and on the website: www.chicagobluesfestival.us