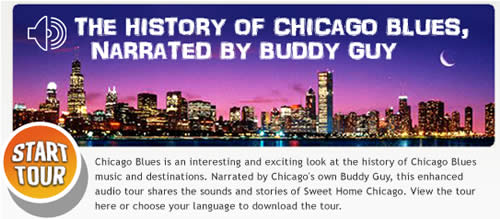 Experience the rich tradition of Chicago blues in a new way with the debut of the free Chicago Blues Enhanced Audio Tour. Blues legend and Rock and Roll Hall of Fame inductee Buddy Guy narrates the tour, with personal anecdotes and memories of the people who became blues legends. Available in five languages, the tour takes you to historic blues sites including locations where the great musicians lived and created the musical tradition that forever changed popular music and American culture.

Blues fans will relish the opportunity to actively participate in history by taking this self guided tour, complete with images and music cuts, available either online or by downloading it to a MP3 player.

We hope you will want to be among the first to share the news of this free multimedia way to explore the blues.