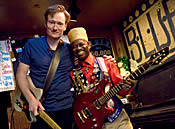 LIL' ED AND THE BLUES IMPERIALS TO APPEAR ON LATE NIGHT WITH CONAN O'BRIEN TONIGHT!

Chicago blues master Lil' Ed Williams, whose new Alligator CD RATTLESHAKE was released on June 27, will appear on Late Night With Conan O'Brien TONIGHT, Wednesday, July 12th!

Lil' Ed and The Blues Imperials will perform Leaving Here (the lead track from RATTLESHAKE). Ed appeared on Late Night last May in Chicago in a hilarious filmed segment followed by Ed sliding across the stage of the Chicago Theatre on his knees and jamming with O'Brien. The entire Late Night staff was so impressed by Ed's talent and charisma, they invited him and The Blues Imperials back for a full song performance.

Visit the Alligator Records Goodies page for a FREE DOWNLOAD of Tired Of Crying from Lil' Ed and The Blues Imperials' brand new CD, RATTLESHAKE.