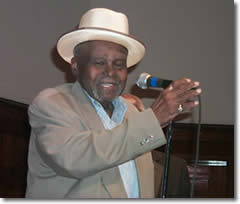 On October 16, four of the oldest living blues legends will be performing together in Dallas for the first and probably last time ever. The program is sponsored by The Blue Shoe Project, a non-profit organization that promotes the awareness and appreciation of blues, rhythm and blues, and roots music in pre and post secondary education. This rare, one-of-a-kind event at the Majestic Theater will feature:

* Joe Willie "Pinetop" Perkins, recognized as the world's best blues pianist;

* Robert Lockwood, Jr., legendary guitarist who mentored Muddy Waters and B.B. King;

* Henry James Townsend, widely hailed as the greatest roots bluesman of the century; and

* David "Honeyboy" Edwards, whom the New York Times has called one of "the last authentic performers in blues idiom that developed in central Mississippi during the second and third decades of the century."


About The Blue Shoe Project

Founded in 2004, The Blue Shoe Project was formed for the purpose of increasing the awareness of, educating and promoting appreciation for the blues, R&B and Roots music in our community and in secondary and post-secondary education through the voice of living music industry legends.