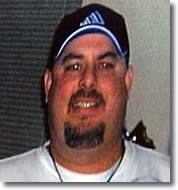 A day at the Shanti in Soulard that should have been his birthday celebration, instead turned into a place to both mourn his loss and celebrate his life. Sadly, Kelty O' Brien was shot and killed in an apparent car-jacking, on his way to work last Friday morning. It happened in south St. Louis, near Bent and Parker, in the Tower Grove South neighborhood.

On Saturday, November 8th, a fundraiser was held in Kelty's honor. Countless friends and family stopped by the Shanti, as did the many musicians on hand performing in a very heart-felt show of affection for Kelty. Kelty was a music lover like few others, and especially loved the live blues music of St. Louis. Kelty's father, Charlie O' Brien, was known as the 'Blues Detective'. Charlie used his police detective skills to track down many 'forgotten' blues artists and help revive thier careers, once they realized they weren't actually in trouble with the law!

Kelty O'Brien is also the brother of St. Louis Police officer, Mark O'Brien. At the Shanti fundraiser, held to pay for Kelty's funeral expenses, Mark said visitation for his brother will be Tuesday 11/11 at Kutis Funeral Home on Gravois, from 4-9:00.

"And then Wednesday the funeral, at Epiphany of our Lord, we'll do the Mass. And he'll be buried at Resurrection on Wednesday."