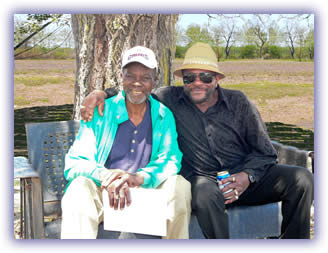 Legendary drummer Sam Carr has played with everyone from Robert Nighthawk (also his father) and Sonny Boy Williamson II to Buddy Guy and T-Model Ford. He was also the bandleader of the the Jelly Roll Kings. A native of Lula, Mississippi, Mr. Carr has recently moved to a nursing home in Clarksdale, Mississippi.

Theo Dasbach (Rock Museum) and Roger Stolle of Cat Head and Blues Revue visited him recently and report that he seemed to be pretty good, all things considered.

Stolle said, "We were told that he wasn't eating much, though, and whatever meds he was on seemed to be making him pretty drowsy. What he really needs is visitors, cards, and assorted gifts (music or DVDs?) and room decorations (Blues photos or posters?). He needs to know that the Blues community appreciates his decades of musical service and still remembers who he is." Please drop him a card or whatever you feel like at:

Greenbough Nursing Center
Attn: Mr. Sam Carr
Room 308
340 Desoto Avenue Ext.
Clarksdale, MS 38614.

He'll appreciate your support.

Thanks, Roger.