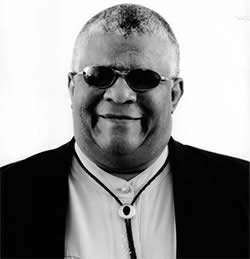 We lost one of the unsung heroes of modern Carolina Blues, Soul, and R&B on Thursday, March 20, at 9 pm: Calvin "Skeeter" Brandon, age 59, after a long series of health problems. A man with a huge, rich voice, virtuoso keyboard talent, and a fat songbook of classic and original material, Skeeter Brandon brought joy to audiences from Spartanburg to Spain during his life on this planet.
In 1991, Skeeter Brandon was recruited to front the North Carolina band Highway 61 (Armand Lenchek, guitar; Chris Grant, bass; Danny Dixon, drums) after the untimely demise of Walter "Lightnin' Bug" Rhodes. With credentials including Clarence Carter, The Chi-Lites, and others, Skeeter Brandon was perfectly suited to take over the band. Together, they specialized in rock bottom Blues, exuberant Soul music, and dancefloor-filling grooves.
And that voice - soaring, crystal-clear in the upper registers, a howling force of nature in the midrange and bottom. Offstage, Brandon was always the gentleman, chatting quietly with fans and resting between sets. Onstage, he was another story!
The funeral was held Tuesday, March 24 in Roxboro, North Carolina. Planning for a memorial concert is in the works now. Stay tuned. In the meantime please keep Skeeter and his family in your prayers. Remembrances can be left on the band's MySpace page