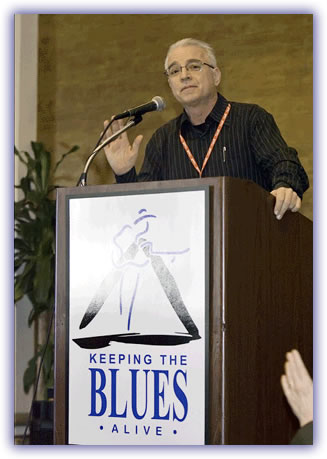 Veteran Blues educator, journalist, author, and 12-year Blues Foundation Board member Art Tipaldi has been appointed interim editor of our sister publication Blues Revue replacing Ken Bays. A Visionation editorial committee composed of Tribal Chief/Publisher Chip Eagle, BluesWax and FolkWax Editor-in-Chief Don Wilcock, and Blues Revue Art Director Andrew Miller announced the appointment as effective immediately.
"I am thrilled to be asked to guide Blues Revue in this next, very important phase," says Tipaldi. As a Blues fan and now editor, it is crucial that Blues Revue continue to tell the stories of the elder statesmen and women of the Blues, that tell the stories of today's contemporary Blues men and women who learned from the masters, and that we listen for tomorrow's Blues artists and tell their stories. In that way, we can always satisfy the interests of the diehard, lifelong fan of the Blues, but we will also inform and educate the new fan about this uniquely American art form."
Art Tipaldi began writing for Blues Revue in 1994 with a profile on Guitar Shorty. In 1996, he received the Blues Foundation's Keeping the Blues Alive Award for excellence in journalism. A high school English teacher since 1973, Tipaldi pioneered a course that combined African-American literature and the Blues.
Since 1995, Blues performers like B.B. King, Keb' Mo' , Shemekia Copeland, Coco Montoya, Corey Harris, Guy Davis, Ronnie Baker Brooks, and Honeyboy Edwards have performed for his classes. He has conducted numerous seminars for teachers on this curriculum and wrote the English curriculum for the PBS series on the Blues. He has been on the Blues Foundation Board of Directors for 12 years and is the author of the book Children Of The Blues, which profiles forty-nine current Blues musicians.
In a letter to Blues Revue writers Tipaldi says: "As a teacher of writing, I' ve always taught my students three principles. Always write with specific details, show, don' t tell your reader, and put the reader there. It' s the use of those specific details that make your writing better then anyone else' s. That' s what makes Bob Margolin' s and Doug MacLeod' s columns among the most popular Blues Revue features. When I first started writing for Blues Revue I told myself to put my readers in the club, at the festival stage, or in the interview. I understood that what separates the ordinary from the gifted artist is a unique spark or vision. I vowed to discover that uniqueness within each performer I interviewed or watched and let my readers see that, too. Find the moment or heart of each performer' s story or show and write from that core."
On my first trip to the King Biscuit Festival in 1994, I watched a small five-year-old boy stand at the foot of the stage blowing and drawing on a tiny toy harmonica as Billy Branch and the Sons of Blues entertained. That one small detail that probably no one in the crowd saw can tell the entire story of that festival, of Billy, of Helena, of music.
That' s all I ask each of you as writers for Blues Revue. Continue to grow as writers as you report on the music we love. Each one of you has a distinct and unique voice as a writer, experiment with that voice.
I' ve now been asked to follow in the footsteps of Bob Vorel, Andy Robble, Angel Rosamond, Christine Krieser, and Ken Bays and to continue to chart our course of journalistic excellence. To that end, I know that the ideas that run a successful magazine come from those with their ears open to what' s happening in the world of the Blues. Because your story ideas are the heartbeat of our pages, I welcome your suggestions. I will always listen with an open mind to each suggestion.
Blues Revue Publisher Chip Eagle told BluesWax, "Art Tipaldi is one of the leaders in the Blues and is the perfect person for this position. He has already brought vision to our editorial planning and is great to work with. Few have more enthusiasm for our music than Art. He is inspiring and I am certain that our readers will see that in upcoming issues. I am very proud to have him on our team".

- back to top -